Breakfast in Eureka Springs
Breakfast at Heart of the Hills Inn Bed & Breakfast
Breakfast at Heart of the Hills Inn and Cottages in Eureka Springs is served en-suite or to your private deck or porch weather permitting. No need to get dressed and trudge on down to the dining room and eat with strangers, after all you are here for relaxation, refreshment, or romance.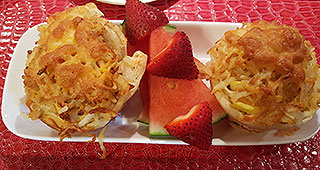 Breakfast courses include seasonal fresh fruit or a fruit juice smoothie, main course, breakfast meat, and a dessert. We also serve fruit juice and you will find coffee and a variety of teas en-suite along with bottled water. We are happy to provide soft drinks or milk upon request and will work as much as possible with dietary restrictions and food allergies. We have a different menu for each and every day you are here, so you can experience a variety in eating well!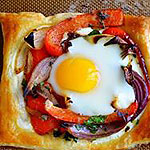 Keurig coffee makers are now in all suites/cottage. Provided daily for rooms with two guests are three breakfast blend coffee packets. Additional specialty coffees, tea, cider and hot chocolate are available by request and are $1.00 each. Bon-Appetite...........